Massage Therapists–Why Specialize?
Blog Post, February 1, 2013
Massage Therapists who specialize in more treatment modalities (kinds of massage) in addition to the traditional Swedish Massage open many doors to increasing their skills, raising income levels and being able to combine various modalities to benefit their clients.
Massage specialists are trained to administer specialized techniques which are designed to enhance the "physical well being" of their clients.  "Physical well being" includes reduced stress and chronic tension.  Hand-on techniques such as Swedish, infant, prenatal and sports massage, acupressure, trigger point therapy, and deep tissue bodywork are used to reduce stress, tension, and pain.  As licensed practitioners, massage specialists may practice independently after establishing their own private practice.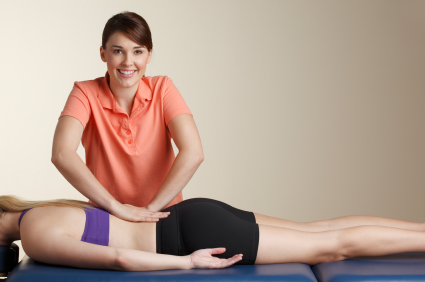 In addition, many licensed massage specialists own and/or manage businesses which provide these specialized techniques in a variety of work environments.
Licensed massage specialists may seek employment in a number of venues including day spas, saunas, resorts, fitness centers, and privately owned massage specialty centers.  Employment opportunities are also available in medical practices and the clinics of other health care providers (e.g., chiropractors).  The rewards of being a licensed massage specialist include independence, direct client care, numerous job and career opportunities, and good salaries.
How do I choose  Specialties?
When you attend Renaissance College-Program of  Massage you begin to "sample" a wide variety of areas in which you can specialize.  Most accredited schools will offer a wide range of classes enabling you to gain experience in classes that you may later want to specialize in.
Once you have sampled the various modalities begin to learn more about the modalities on your own.
•    Search the Internet, using a Keyword (i.e. Shiatsu) to learn more about this modality and its uses.
•    Find educational blogs for your desired specialty.  Google the modality
•    Check for those who teach this modality.  If you can take even one course from the person who discovered or refined the modality you will gain a great deal.
•    U Tube Videos can provide you with many opportunities to see how the modality is applied, its benefits and to watch it in action.
•    Talk to others who have chosen to specialize in this modality.  Discuss how it has impacted their career, the monetary benefits and the market for the modality in  the area of the country you live in.
•    While still in school let the office staff, clients who come to see you and other students know you are specializing in this modality.
•    Begin to take classes in the modality either from an accreditated school or attend workshops specifically offered in this modality.
•    When you are finished with school focus and perhaps apprentice with someone who will work with you and allow you to work with their clients over a period of time.  You will not only learn the modality but get hands on experience how they run their business, market and have a greater overall picture of this modalilty in many areas.
Below are a few Modalities and Web Sites to give you further information about specialties.
Cranio-Sacral Body Work www.upledger.com
Shiatsu www.naturalhealers.com
Myofascial Release www.myofascialrelease.com
Infant Massage www.infantmassageusa.org
Sports Massage www.ultrasportsmassage.com
Reiki www.reiki.org
Chinese Medicine  www.actm.edu
Spinal Touch www.thespinaltouch.com
Touch For Health www.touch4health.com